About us
Inspiring Diversity in STEM is a grassroots initiative based in London, Ontario, Canada promoting diversity and inclusion in science, technology, engineering, and mathematics (STEM). Our mission is to help break down the barriers faced by underrepresented groups by connecting them with inspiring and representative role models, cultivating early research skills, and providing a supportive community. Together, we are building an inclusive community dedicated to helping future leaders achieve their goals.
This organization was founded in 2015 under the name 'Inspiring Young Women in STEM' which ran its inaugural conference in March 2016 at Western University in London, Ontario. We have changed our name to 'Inspiring Diversity in STEM' as a response to the importance of intersectionality. In doing so, we hope to be a more inclusive community for people from various backgrounds, including race, ethnicity, gender and gender identity, age, socioeconomic status, national origin, sexual orientation, ability, and religion.
Inspiring Diversity in STEM has run two successful biennial conferences thus far, in 2016 and 2018, and will be hosting its third in March 2020. These conferences have included keynote speakers, workshops, panel discussions, industry and graduate program expo, and an undergraduate poster competition. We have awarded several travel awards to students travelling from outside of Western University and awards for students with the best poster presentations. Our conferences have brought in hundreds of attendees, ranging from the undergraduate to the faculty level, and several local industry partners. For more information about our conferences, please visit our Conference page.
In 2019, Inspiring Diversity in STEM will be expanding its efforts beyond a biennial conference to include a reading group, social events, and outreach programs. Email inspiringdiversityinstem@gmail.com if you're interested in getting involved.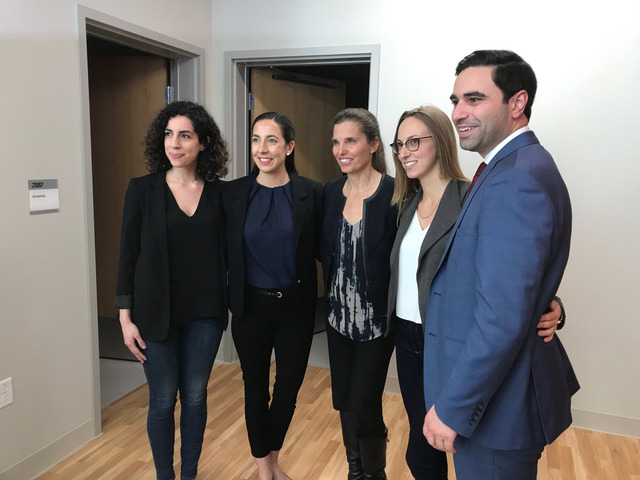 Meeting the minister of science
Inspiring Diversity in STEM 2018/2019 Co-Chairs meeting with the Minister of Science, Kirsty Duncan, and with London North Centre MP Peter Fragiskatos to discuss our diversity in STEM initiatives.
(Pictured left to right: Ramina Adam, Nicolette Armstrong, Kirsty Duncan, Avital Sternin, Peter Fragiskatos)
What We've Achieved…
Awarded the top 10 undergraduate student conference applicants with Travel Awards

Awarded the top 3 poster presenters at the Undergraduate Poster Competition with Best Poster Awards

Connected hundreds of undergraduate students to a supportive academic network and future graduate research supervisors

Connected graduate students with local industry partners to network for future careers in scientific research and industry
"STEM conference engages, empowers young women", Western News, March 7 2018
"Empowering Young Women in STEM", Rapport 2018, Schulich School of Medicine & Dentistry, Western University
"HBHL Trainees Attend the Inspiring Young Women in STEM Conference", Healthy Brains for Healthy Lives, McGill University, March 8 2018
"Minister of Science Kirsty Duncan tours Robarts", Robarts Research Institute
Interview with Schulich School of Medicine & Dentistry for the International Day of Women and Girls in Science, February 11 2018
Diversity and Inclusion Statement
At Inspiring Diversity in STEM, a diverse, inclusive, and equitable environment is one where all volunteers, whatever their gender, race, ethnicity, national origin, age, sexual orientation or identity, education or disability, feels valued and respected. We are committed to a nondiscriminatory approach and provide equal opportunity for advancement in all of our programs. We respect and value diverse life experiences and heritages and ensure that all voices are valued and heard.
We're committed to modeling diversity and inclusion for the academic STEM community and to maintaining an inclusive environment with equitable treatment for all.
To provide informed, authentic leadership for cultural equity, Inspiring Diversity in STEM strives to:
See diversity, inclusion, and equity as connected to our mission and critical to ensure the well-being of our volunteers and the communities we serve.

Acknowledge and dismantle any inequities within our policies, systems, programs, and services, and continually update and report organization progress.

Explore potential underlying, unquestioned assumptions that interfere with inclusiveness.

Advocate for and support board-level thinking about how systemic inequities impact our organization's work, and how best to address that in a way that is consistent with our mission.

Help to challenge assumptions about what it takes to be a strong leader at our organization, and who is well-positioned to provide leadership.

Practice and encourage transparent communication in all interactions.

Commit time and resources to expand more diverse leadership within our executive board, committees, and advisory bodies.

Lead with respect and tolerance. We expect all volunteers to embrace this notion and to express it in everyday interactions and practices.